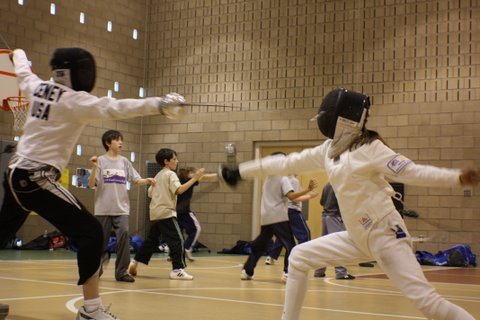 Beginning Fencing For Youth

Level One Group Class
Ages 9-14
Available classes:
Thursdays, July 11 - August 1, 5:00-6:00pm
or
Thursdays, July 11 - August 1, 6:00-7:00pm

Class meets for 4 one hour classes.
Any needed equipment used during
class time is provided.
Students wear athletic shoes, t-shirt and athletic pants.
Sorry no jeans, khakis, shorts or sandals.
Class is held at Chinook Trail Elementary Gym.
Class size is limited.
Registration is on a first come basis.

To Register follow these THREE easy steps:

1. Purchase your Deal of the Day!

2. Confirm class space availability by contacting:
frontrangefencingclub@comcast.net
3. Print, complete and mail registration forms,
one per participant please: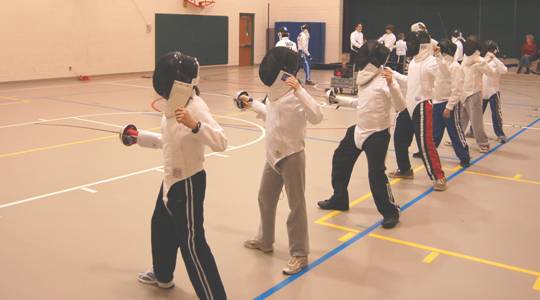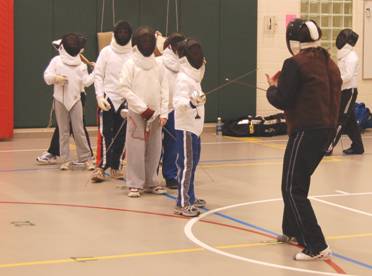 Other available classes:
Beginning Level Two
Intermediate
Recreational Practice
Competitive Training

Meet the Coaches
Kathryn Lewis-Salem
Coach Kathryn is Head Coach at FRFC. She is certified by the US Fencing Coaches Association and has coached and taught fencing at clubs and universities in Texas and Philadelphia. As a World Class fencer she was a member of the US squad and made many National and International Finals. Formerly ranked second in the United States she was a Two-Time National Epee Champion and Bronze Medal National Championship Foil Teams member. Her fencing honors include serving as US Olympic Committee Athlete Liaison, USA Fencing Athlete Representative, US Junior Pan Am Team Manager, USA Fencing Philadelphia Division Chair and USA Fencing North Texas Division Chair. Kathryn holds an MFA and BS degrees and is a licensed K-12 teacher. She currently teaches Art History at UCCS.
Abdel Salem
Coach Salem is Head Coach at the US Air Force Academy, directing the men's and women's fencing program since 1998. A 1984 Olympian, he holds an MD from the University of Alexandria, Egypt, where he was a practicing general physician. In 1996, Coach Salem was named the US Olympic Committee's Fencing Coach of the Year. He is a certified Fencing Master in all three weapons and has served as US World Team Coach numerous times.
While at USAFA the Falcons have won six Western Region Championships. Coach Salem has coached a team of primarily walk-ons to five All-Americans and a national champion. Teaching and coaching fencing at the University of Pennsylvania, Bryn Mawr College, New York Fencer's Club and founding Lone Star Fencing Center (Dallas) and Fairmont Park Fencing Center (Philadelphia) his fortunate students include U.S. Olympic and World Team members. He has served as a staff member of the U.S. Fencing Coaches College and Coach for the World Military Games. Coach Salem is currently President of the United States Fencing Coaches Association.
Naomi Olivia De La Torre
Coach Naomi learned to fence in Texas and attended the US Air Force Academy where she was a member of the Fencing Team. She has been a finalist at Division 2 and 3 National Events. Naomi is currently furthering her education at UCCS.