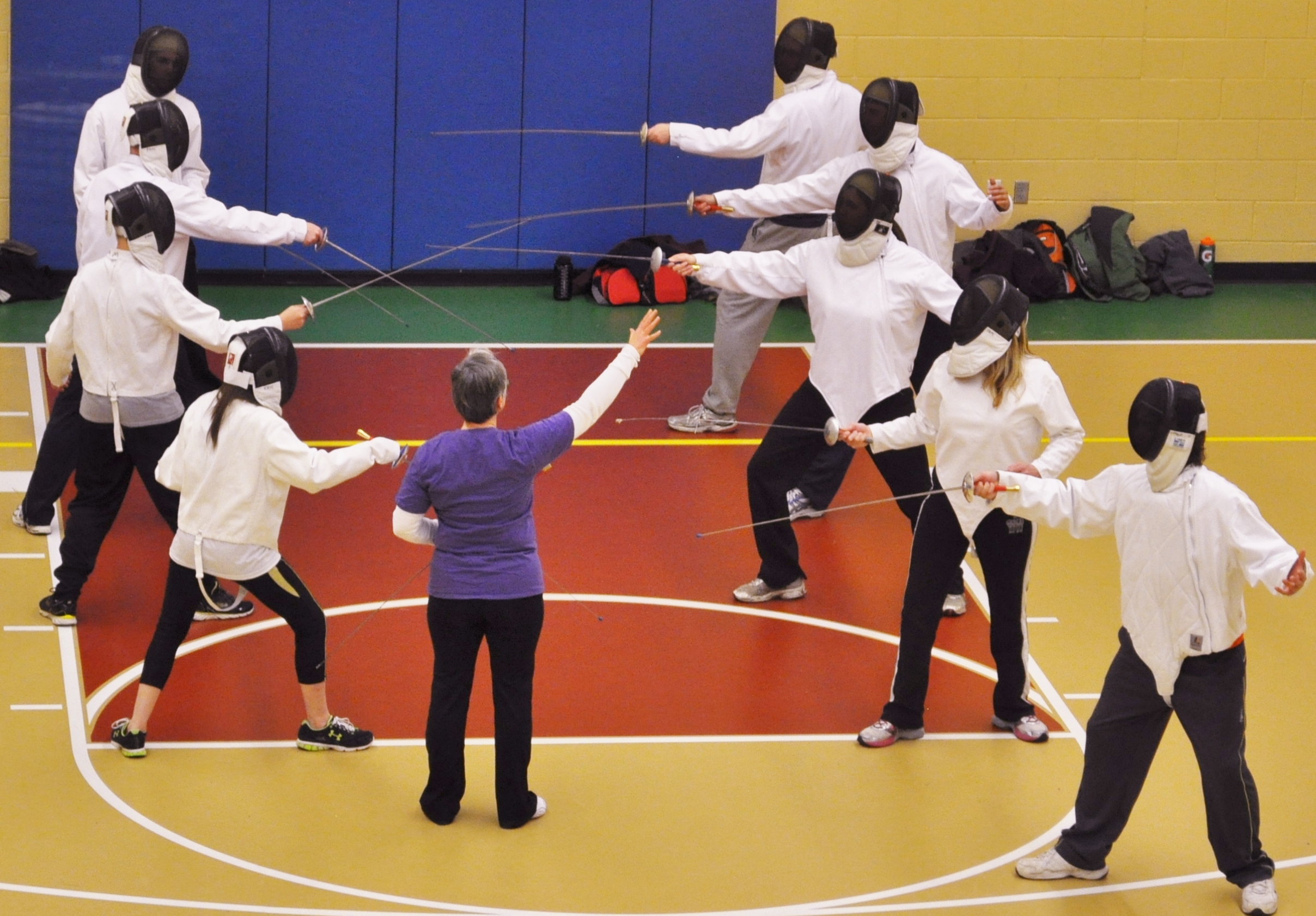 Learn to Fence
Teens and Adults
Ages 15 and up

Basic Fencing Level One Group Class
Available classes at Chinook Trail Elementary
(for other locations scroll down)
Mondays, July 21 – August 18, 6-7pm (no class 8/11) (full)
Mondays, August 25 - September 22, 5:30-6:30pm

Class fee is $100 for 4 one hour classes.

This fee

includes use of any needed equipment during class time.




Student should wear athletic shoes; t-shirt; athletic pants.

Sorry no jeans, khakis, shorts or sandals.




Active Duty Discount On Level One Class = 50% rebate





Note that class size is limited.

Registration is on a first come basis

.



To register follow these TWO steps:
1 - use the payment button below.
2 - click on, print and fill in the pdf registration forms and bring to the first class.
Adult/Teen
Basic Fencing Level One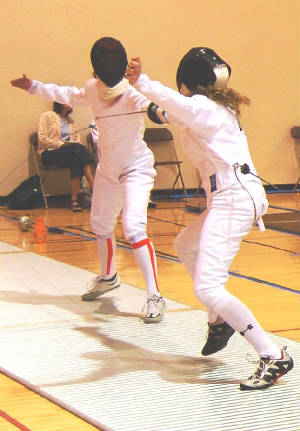 Adult/Teen
Basic Fencing Level Two
Students will add new footwork and bladework as they improve.
Class fee is 100.00 and includes use of equipment during class time.
Tuesdays, September 2-23, 6-7pm
To register purchase course below
or payment by check accepted at class.
For more information contact:
frontrangefencingclub@comcast.net
Adult/Teen
Intermediate Fencing
Students will work at various skill levels, engage in higher level drills
increasing their skills and confidence.
Students sessions and may continue confidence and skills to graduate to the Recreational Fencing Program.
Class fee is 90.00 and includes use of equipment during class time.
Tuesdays, April 8 - April 29, 6:45-7:45
Tuesdays, May 6 - May 27, 6:45 -7:45
Tuesdays, June 24 – July 15, 7-8pm
Tuesdays, July 22 – Aug 19, 7-8pm (no class 8/12)
To register purchase course below
or payment by check accepted at class.
Classes for Teens and Adults are also available at:
Play It Now Sports
(on Academy Blvd. near Union)
FRFC coupons and discounts are not valid at this location.
For more information and to register got to:
http://www.playitnowsports.com/#!fencing/c1brb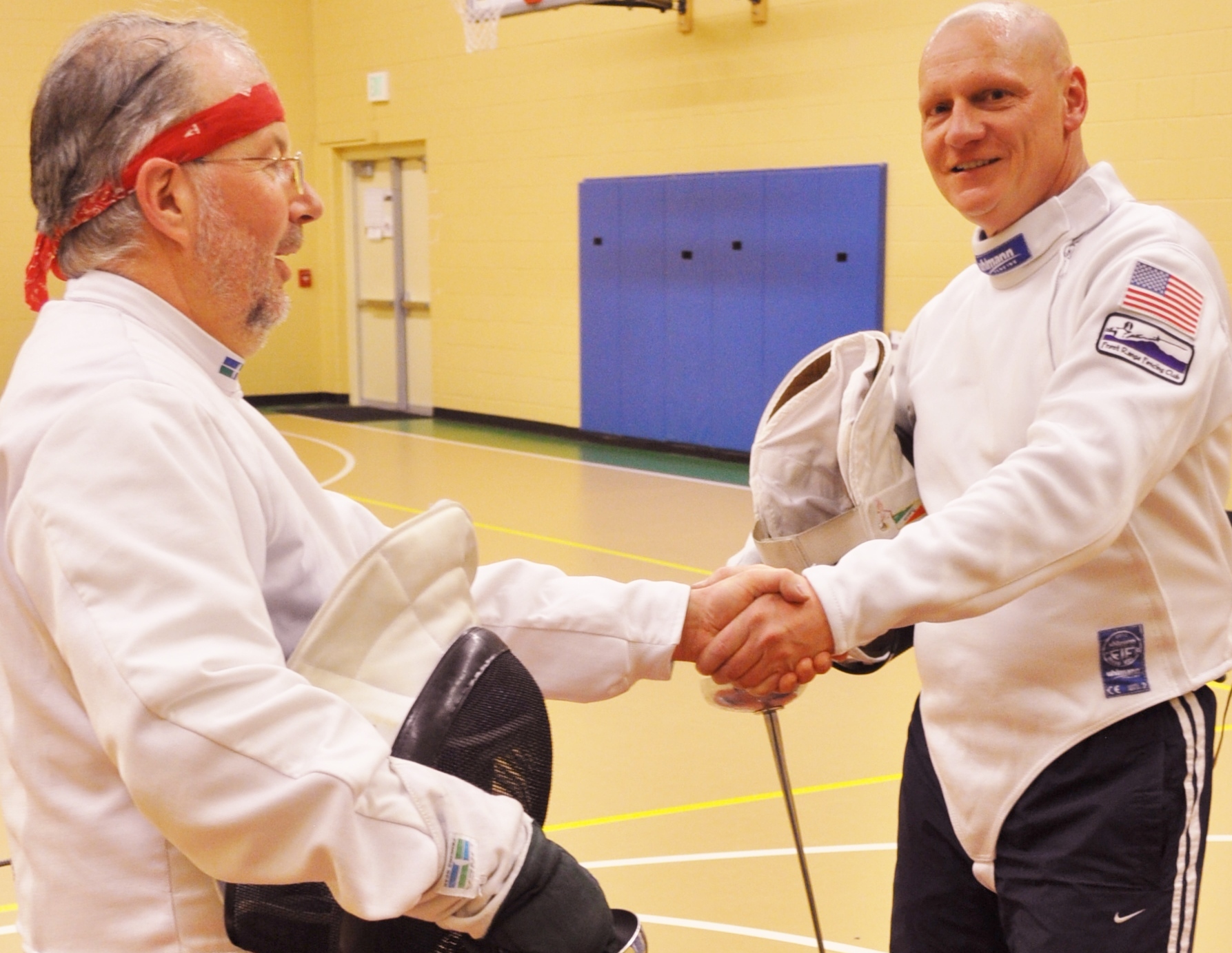 Enter Locker Number: eo529
Choose your item, the design, the colors!
Use the club discount code: BT445
Meet the Coaches

Kathryn Lewis-Salem
Coach Kathryn is Head Coach at FRFC. She is certified by the US Fencing Coaches Association and has coached and taught fencing at clubs and universities in Texas and Philadelphia. As a World Class fencer she was a member of the US squad and made many National and International Finals. Formerly ranked second in the United States she was a Two-Time National Epee Champion and Bronze Medal National Championship Foil Teams member. Her fencing honors include serving as USOC Athlete Liaison, USFA Athlete Representative, US Junior Pan Am Team Manager, USFA Philadelphia Division Chair, USFA North Texas Division Chair. Kathryn holds an MFA and BS degrees and is a licensed K-12 teacher. She currently teaches Art History at UCCS.
Abdel Salem
Coach Salem is Head Coach at USAFA directing the men's and women's fencing program since 1998. A 1984 Olympian, he holds an MD from the University of Alexandria, Egypt, where he was a practicing general physician. In 1996, Coach Salem was named the U.S. Olympic Committee's Fencing Coach of the Year. He is a certified Fencing Master in all three weapons and has served as US World Team Coach numerous times.
While at USAFA the Falcons have won numerous Western Region Championships. Coach Salem has coached a team of primarily walk-ons to five All-Americans and a national champion. Teaching and coaching fencing at the University of Pennsylvania, Bryn Mawr College, New York Fencer's Club and founding Lone Star Fencing Center (Dallas) and Fairmont Park Fencing Center (Philadelphia) his fortunate students include U.S. Olympic and World Team members. He has served as a staff member of the U.S. Fencing Coaches College and Coach for the World Military Games. Coach Salem is currently President of the United States Fencing Coaches Association.
Judith Steed
Following in the footsteps of various family members, Coach Judith first began fencing at Virginia Tech and competed on the University Fencing Team. As a faculty member and researcher, her career has been committed to helping adults achieve their own personal best in all facets of their lives. Certified as an Executive Coach in the field of Leadership, Coach Judith has leveraged her teaching and facilitating skills to support the learning of Fencing Fundamentals to students of all ages. She is currently working to increase her US Fencing Coaches Association certification.
Josef Smith
Coach Josef began fencing at Texas A&M University in 1979. While his career service took him across the country he maintained his fencing interest through local clubs. He is a great communicator and helps to inspire confidence in his students. Constantly working to improve his coaching credentials Coach Josef is a retired U.S. Army Colonel, and holds MBA and BS degrees.